Downtown Burlington Trick-or-Treat
Oct 27, 2017 4:00pm
Friday, October 27, 2017 from 4:00pm to 6:00pm, ghosts and goblins will have a chance to haunt downtown Burlington with treats available at dozens of participating merchants. This opportunity markets to families in Greater Burlington and offers a safe and fun environment for them to trick-or-treat Downtown Burlington.
For more information, call 319-752-6365.
Organized by the efforts of Downtown Partners Inc., a division of the Greater Burlington Partnership.
Holiday Retail Open House
Nov 12, 2017 12:00pm
Sunday, November 12, 2017 from noon to 4:00pm, kick off your holiday season with one of Burlington's favorite events! Get a head start on holiday gift buying at the specialty retail shops, sample food and refreshments, and register for the giveaway of $1000 in Downtown Dollars. Gather your friends and family and come downtown for this special day of shopping and fun. Register for prizes at all participating merchants, and at 4:00pm, gather in front of the Art Center at 301 Jefferson to see if you are a winner! Participating store locations will be updated as date gets closer.
For more information, call 319-752-6365.
Lighted Holiday Parade
Nov 25, 2017 5:00pm
Saturday, November 25, 2017 at 5:00pm -- what a perfect opportunity to gather with family and friends and make some holiday memories. Find a comfortable spot in downtown Burlington along Jefferson Street and relax while you watch one of Burlington's best shows. The parade begins at 8th & Jefferson Streets and proceeds east down to Main Street. It's a very special evening in Downtown that will truly get you into the holiday spirit - especially when you see Santa Claus coming down the lane. Afterwards, be sure to visit Santa in his cottage in Nancy Neafie Park at 6th and Jefferson.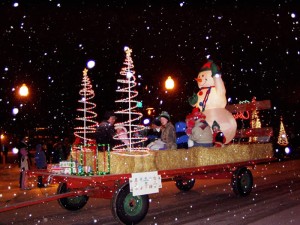 For more information or to sign up to be in the parade, click here.
Living Windows
Dec 14, 2017 6:00pm
Thursday, December 14, 2017 from 6:00pm to 8:00pm, join us to experience a magical night in Downtown Burlington! Dozens of storefronts will come alive during the annual Living Windows celebration! This favorite holiday event includes lights, carolers, story readings, crafts, decorations, gingerbread houses, free horse-drawn carriage rides, and much more. Santa Claus will also be on hand at his cottage in Nancy Neafie Park at Sixth and Jefferson. Living Windows includes complimentary food and beverages at many downtown stores. It's a great opportunity to do some Christmas shopping, see friends, and enjoy the holiday season.
For more information or to download an entry form click here.
Mississippi Valley Regional Blood Center Donations
Dec 31, 2018 7:00am
For questions or to make an appointment to donate blood: please contact the Blood Center at (800) 747-5401 or visit www.bloodcenterimpact.org.